Testimonial - David Small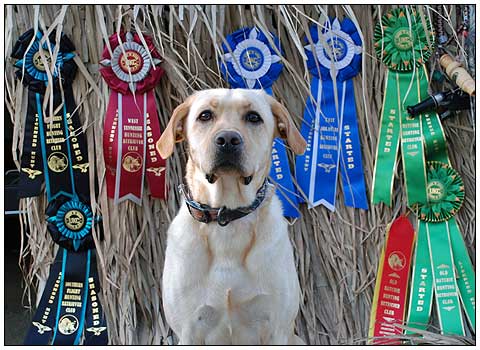 In 2007, my wife Danielle and I bought a yellow lab puppy named Winchesters' Golden Legend "Winnie", for the purpose of just having a hunting dog. Within the first two months that I had her, it was obvious that we were going to need help with training her because, to say she was a handful is putting it very lightly! I started to research professional trainers and I came across Scott Greer. I found out that Scott was a member of Team WaterDog and thought that there was no way I could afford his services, but I gave him a call anyway. As it turned out ,not only could I afford Scott's services, he was more affordable than most other trainers that I contacted.
We agreed to enroll Winnie into Scott's training program, and we haven't looked back since. Winnie was with Scott and Scott's assistant Steve Moffitt for the better part of 2008 and I would visit her monthly. Every time I visited Winnie I knew I would get a no B.S. assessment of where she stood in her training and not just told what I wanted to hear.
Before Danielle and I brought Winnie home from Scott's, we decided to allow Scott and Steve to run Winnie in some hunt tests, and she did great passing 4 straight started level tests, and 3 straight seasoned level tests to earn the "Hunter Retriever" title. In early 2009, Danielle and I bought a second dog, a male black lab and named him after Scott's former kennel "Sur Shot's Black Label Old No. 7 "Smooth" and he is currently in training with Scott and doing great.
I would recommend Scott's program to anyone wanting their duck dog trained. Their program is second to none and they are always available to answer any questions you may have. When I took Winnie to Scott's place for training, not only was I getting a well trained hunting dog, but I gained a friendship that I would count among some of my best!
David Small
Peru, Indiana