About North Fork Retrievers
Head Trainer Scott Greer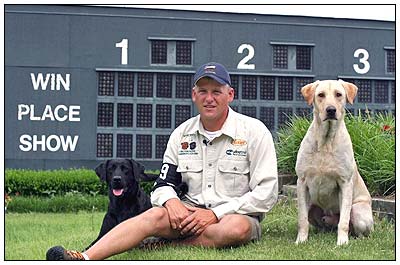 Scott was born and raised in West Tennessee and duck hunting has always been an extremely important part of his life. In Spring 1998, Scott decided it was time to buy his first lab pup, Paxton. He liked training Paxton so much that he bought another pup in the summer of 1999. Little did he know that the second pup, Liza, would set the stage for great things to come.
Liza got her Hunting Retriever Champion title before the age of two and was a Master Hunter and Grand Hunting Retriever Champion by the age of 3. Scott also started training on the side in order to make extra money to fund Liza's campaining. In 2002, Scott received a phone call from Justin Tackett inviting him to participate in the first ever televised Super Retriever Series. Scott took Liza over to Stuttgart to compete with little or no expectations. When it all shook out, Scott's little yellow female took second and only missed winning by one point. Still to this day, Scott believes it was a little Arkansas home cooking that kept him out of the winner's circle. This qualified Liza for the Great Outdoor Games in Lake Placid, New York. They didn't fair so well; but with just a 2-year old, he was just glad to compete.
In 2003, Scott continued to train on the side, but business was growing. He made another semi-final appearance in Stuttgart at the SRS with Liza.
2004 was the turning point in Scott's career. March came and Scott walked away from a full time job with benefits to be partners with Jimmy McMahon and Sur Shot Retrievers. Scott thanks Jimmy for all the help in that first leap of faith. One month after quiting his job, Liza won the SRS qualifier in Stuttgart and also won the first ever SportDOG Team of the Year. This earned them another trip to the Great Outdoor Games in Madison, Wisconsin, where they placed sixth.
In 2005, Scott expanded his kennel and made twenty indoor runs. He also qualified a new dog, Addie, for the Crown Championship by finishing in second in the Stuttgart SRS.
Over the next three years, Scott continued to have huge success in the SRS as well as hunt tests. In 2006, Candy came in second in the Stuttgart SRS qualifier and qualified for the Crown Championship in Hot Springs. Scott qualified two more dogs for the 2007 Crown Championship, with Abbee winning Union City, Tennessee, and Luke placing third in North Carolina. Luke also qualified for the Crown in 2008 after winning in the Miami, Oklahoma, SRS event.
2007 was another big step for Scott. Thanks to his success in trials and the SRS, business had become to much for him to handle alone and he hired Steve Moffitt as his first assistant trainer. Steve has become a huge asset to the success of this business. They also added twelve more runs the facility at that time.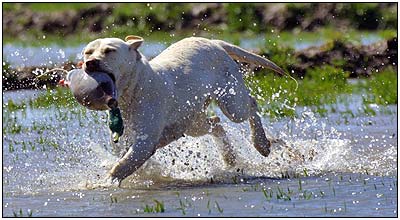 2009 has come, and again another turning point. Scott decided to to be a sole owner in his retriever business and ended his partnership with Sur Shot Retrievers. Scott went back to the name of his original kennels, North Fork Retrievers.
Since 2004 it has been nothing but a huge carnival ride. They have had many ups and downs, but more ups. Clients have become best friends and one client is now his assistant. He has produced 50 HR and HRCH titles. 7 Grand Champion and 25 Master Hunters, 3 SRS Qualifier Winners and earned 6 trips to the SRS Crown Championship. Not bad for 5 years. /*
---
Assistant Trainer Steve Moffitt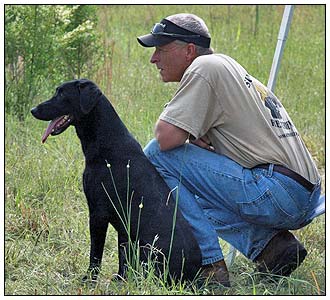 Steve was born in May of 1954 in Memphis, Tennessee, and has lived in West Tennessee his entire life. He is married, has two grown children, and one grandchild. Steve has always loved the outdoors. He has played sports, hunted, and fished his entire life.
Steve met Scott in 2002 when Scott trained his first lab to be a Grand Champion Master Hunter. He had spent 32 years in industrial sales and management, but started spending much of his free time attending hunt tests, SRS events, and helping Scott train.
In 2005, Steve started assisting Scott on a part-time basis by training 3-4 dogs per month on basic obedience.
In March 2007 he decided to take this passion to another level and began working with Scott full time doing all the young dog training. */ ?>